Upcoming


Events 2023

~ Talk by Leonardo Russo Cardona
We met with Leonardo Russo Cardona from the University of Cambridge to discuss his work on Voice restructuring and Romance tough-constructions. You can find his Handout HERE.

~ Visit by Evgeniia Khristoforova
Evgeniia Khristoforova from the University of Amsterdam visited us in June to discuss complementation patterns in Russian & Dutch Sign Language. She also give a talk at the Institute of Linguistics on June 22, on Exploring Complementation Strategies in Sign Languages: Insights from the Sign Language of the
Netherlands.

~ Talk by Soo-Hwan Lee
In the beginning of June, Soo-Hwan Lee from NYU, presented us his work on honorific case in Korean and the more borader question of A-features in the A'-domain. You can find his slides HERE.

~ Talk by Shannon Bryant
One of our collaborators, Shannon Bryant (Rutgers University), gave a virtual talk on Who, What, and Where: Event roles and pronoun choice in locative prepositional phrases on May 16.

~ Visit by Idan Landau
Idan Landau (Ben Gurion University) visited us in April. He gave a talk on Reciprocal Shift and Symmetry Breaking (April 17) and also discussed with our project group about Voice Restructuring and Control constructions. Thanks, Idan, it was a pleasure having you!

~ GLOW 46 in Vienna & Graz
The 46th Generative Linguistics in the Old World Colloquium (GLOW 46) took in Vienna & Graz from April 11 – 15, 2023. All of us were involved in the organisation and it was an awesome conference! Find more information HERE.

~ Collaboration with Cora Cavirani-Pots
We are starting a new collaboration with Cora Cavirani-Pots from KU Leuven. We will work on grammaticalization of say-verbs, CP layers, Japanese complementizer data and much more interesting stuff!

~ NELS53 in Göttingen
Iva and Lena traveled to Göttingen, Germany to attend NELS53 with two posters: Iva & Susi collaborated with Shannon Bryant and talked about Forward, Backward, Crossed: Voice restructuring and its semantics. Lena presented together with Ka Fai Yip novel work on (In)dependence of features on composite probes.
Thanks to the linguistics institute Göttingen for hosting a wonderful conference!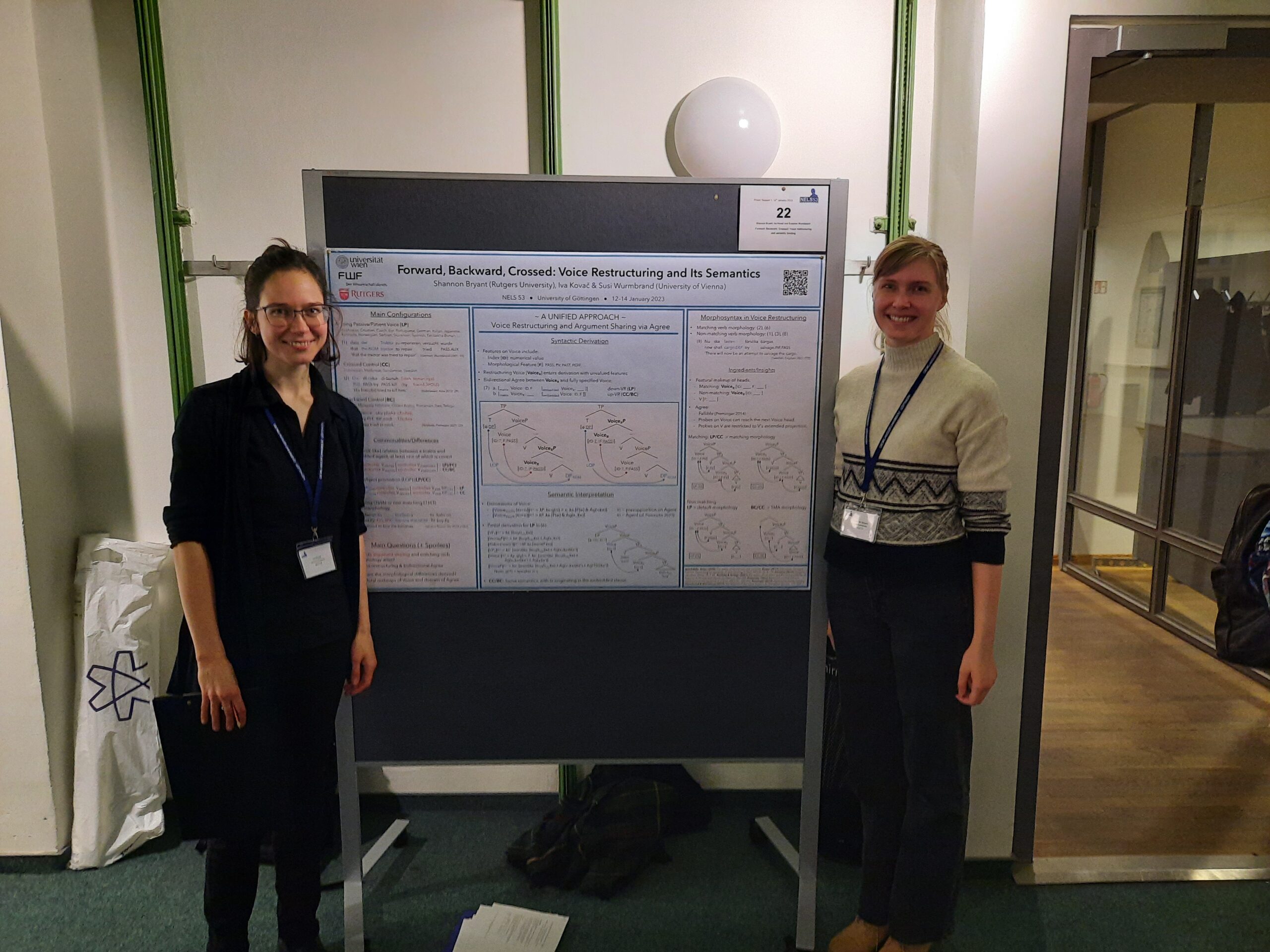 Events 2022

~ Visit by Harvard HCRP fellow Richard Luo
In August 2022, Richard Luo from Harvard University is visiting us in Vienna for two weeks on a research trip funded by the Harvard College Research Program. He will work on complementation and relative clauses in Mandarin Chinese and join us on various research meetings. A recent handout of his work can be found HERE.

~ Guest lecture by Evgeniia Khristoforova
Evgeniia Khristoforova from the University of Amsterdam visited us in July 2022 in Vienna to give a guest lecture on Restructuring and ICH in the Sign Language of the Netherlands and Russian Sign Language.

~ Erasmus visit by Irina Burukina
Irina Burukina visited us for two weeks in May 2022. In this time we organized…
several research meetings with her,
her great guest lecture on When dative subjects and agreement in infinitival clauses depend on an external adposition,
a roundtable discussion with her, Jonathan Bobaljik, Sabine Laszakovits, us project members and students of the liguistics department and related institutes,
a series of social events.
Thanks for the very fruitful time, Irina, we hope to see you again soon!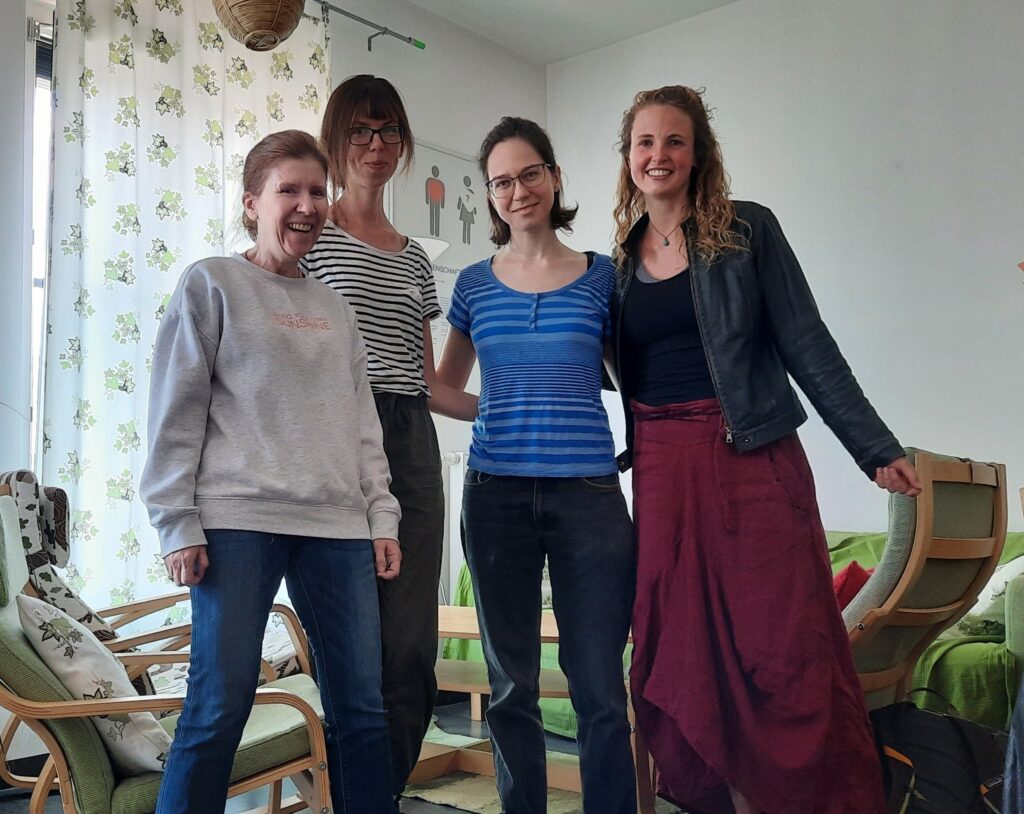 ~ GLOW45 in London
We attended the 45th GLOW in London in April 2022 – our first in-person conference as a team! (Find our talk HERE). Moreover, Susi was elected GLOW president and Lena became the new GLOW webmaster.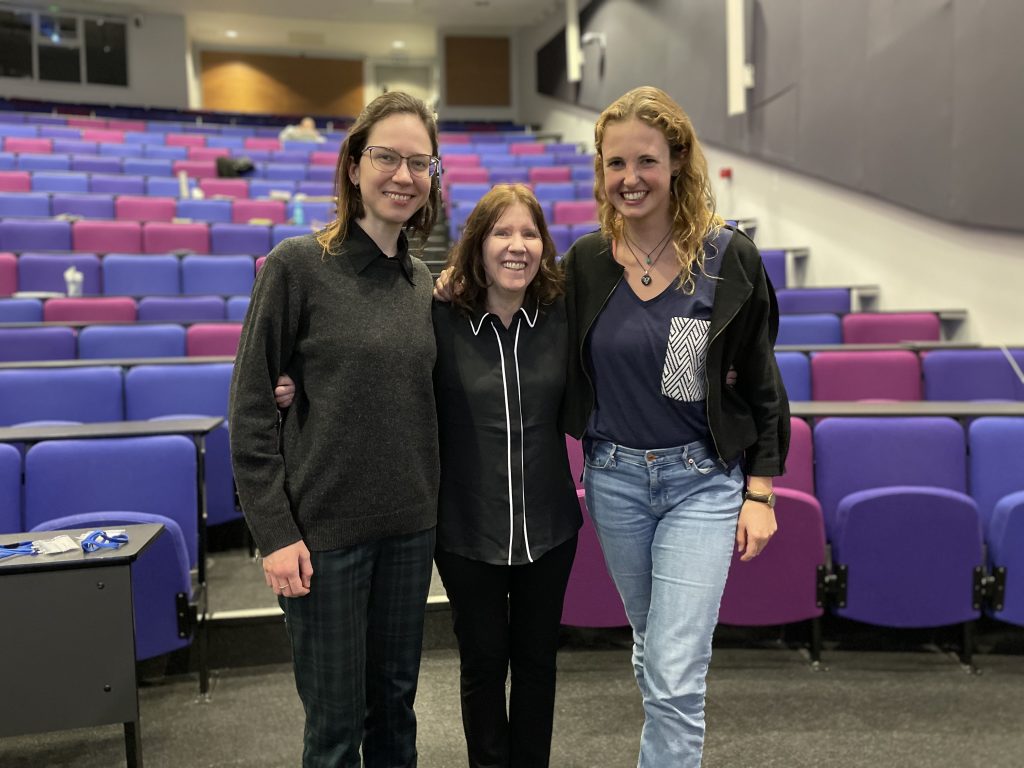 Events 2021

~ Workshop at the 46th Austrian Linguistics Conference 2021
(Österreichische Linguistik-Tagung ÖLT)
We organized the workshop Crossing boundaries: Empirical and theoretical aspects of A-dependencies in complementation as part of the 46th Austrian Linguistics Conference in December 2021. The workshop was held online.
More information on the great presentations, programme and the workshop description can be found HERE.

~ Presentation of a Festschrift for Susi Wurmbrand
Sabine Laszakovits and Zheng Shen published a Festschrift in honour of Susi Wurmbrand for her birthday in 2021, comprising of papers that were inspired by this and the former FWF project.
Laszakovits, Sabine and Zheng Shen. 2021. The size of things I: Structure building. Language Science Press.